TGIF folks! How's your Friday going? Today's Favorites Friday is going to be a bit different! I want to share about some of my favorite things going on with my other bloggy friends!
First off,
The Train To Crazy
is about to showcase 25 hand made costumes from some of the TOP bloggers! I can't wait to see what they work up because I LOVE making my kids costumes. So stay tuned that all that fun!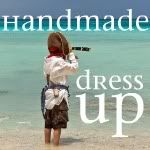 Second, I learned something from
Linda at Craftsaholics Anonymous via Eisy Morgan
about how to properly credit sources in your blog posts. I've only been doing this blog thang for over a year now, so it's about time I got my act together and credit sources correctly! I'm looking forward to reading the other amazing posts that are lined up in this series!
Also,
Reachel at Somewhat Simple
has compiled the ultimate shopping blog post EVER!! Take a look at these great tips on how to save on what and which stores! This post is a definite saver!!
Allison at Oopsey Daisy
is kicking off a fun new idea - a week of theme inspired projects from 7 awesome bloggers AND tremendous prizes for YOU to win! Head over and check out
The Creative Carousel
Finally, I had to share this great compilation of
Helpful Links for bloggers from Scatter Girls
! This is one post you won't want to loose! Great ideas, content and links to kick up your blogging a notch - all thoughtfully put together by your friends at Scatter Girls!
Now technically, I've never met these folks or let alone emailed many of them, but I read their blogs and because I do that - I consider them my bloggy friends! (ha!) Just like I consider all of you to be my bloggy friends as well - even though not all of us have chatted before. In an effort to change that, I would love to make Friday's here at It's Toile Good all about YOU! I'd love to feature you, your blog, your new projects, your favorite projects, your recipes - anything! Email me, Allison at toilegood@gmail.com and we'll discuss scheduling and content! It'll be fun - PROMISE!
Hope you all have a terrific weekend!
All the best and hope to hear from you!
A