Upon careful consideration and MUCH deliberation (the hubs was actually the tie breaking judge)....the WTDWIW winner is Courtney from
Not So Homemade!!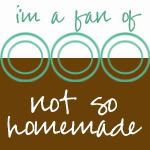 "The third picture (with the spatula part down) reminds me of a dress silhouette. I think it would make a cute decoration if you cut the top part off about(either straight or heart shaped) halfway down the top half so you still had a waist and bust shape. Then you could paint/decorate it like a dress.
Oooh... just thought of something else. If you add hooks to the bottom you could hang it on the wall as a jewelry rack. Then it's cute AND functional!"
Thank you Courtney for sharing your creative idea! I would never have thought to use it in this way and can't wait to get to transforming it! Feel free to grab a button for your blog too!
Thank you to all who participated in the 2nd WTDWIW contest. I so appreciate all of the input, comments and suggestions and am so inspired by all of your creativity! Want to play again? Next week will bring a new WTDWIW item and new prize, so stay tuned to what's happening on It's Toile Good! Just leave a comment with your ideas and if yours is chosen - you win! It's that easy!