I've been inspired! There are a million ADORABLE Halloween wreath's out there right now and I have to HAVE one!! Here's the one I whipped up. Literally - in like 15 minutes!
You'll need...
1 wire hanger
1/2 yard black burlap
1/2 yard Halloweenish fabric
Cut 2 - 3.5" wide and 44" long strips of Halloween fabric
Sew the ends of 2 burlap pieces together to make 1 long 88" strip of fabric
Repeat for the other two burlap pieces and the Halloween pieces
Stack the 2 burlap strips with the Halloween fabric on top centering it between the outer edges of the burlap
Sew all three pieces together with 2 seams. Each seam is a 1/4" from the outer edge of the Halloween fabric. This will leave you with a 3 inch pocket between the burlap pieces.
Slip the straightened end of the hanger through the pocket in the burlap. Feed the entire length of fabric onto the hanger. Reshape the hanger into a circle shape and re-twist the two ends together, securing the wreath form.
Rip a 4" strip of fabric and tie at top to hide the hanger and the ends of the fabric. Pull a few strands of the burlap loose to fray the edges.
Hang and admire!
Tomorrow's project is to find the other Halloween decor in the scary, unorganized craft closet!
Linking up to some
fun linky shin digs
! Consider this your personal invite to
CREATIVE OVERLOAD
!!
Because I love a challenge!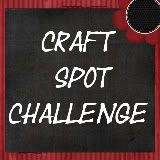 Wow! We are so flattered!